Best Invoice System In Kenya
When doing business in Kenya, invoicing holds undeniable significance. A robust and effective invoicing system contributes profoundly to operational success. Enter Invoice SaSa, the best invoicing solution for both small and medium enterprises in Kenya, tailored to cater to the invoicing requisites of Kenyan businesses. Boasting smart features, personalized interactions, and time-saving efficiencies, Invoice SaSa emerges as the best invoice platform choice for businesses in Kenya and across East Africa region. Below are what makes Invoice Sasa the preferred invoicing system.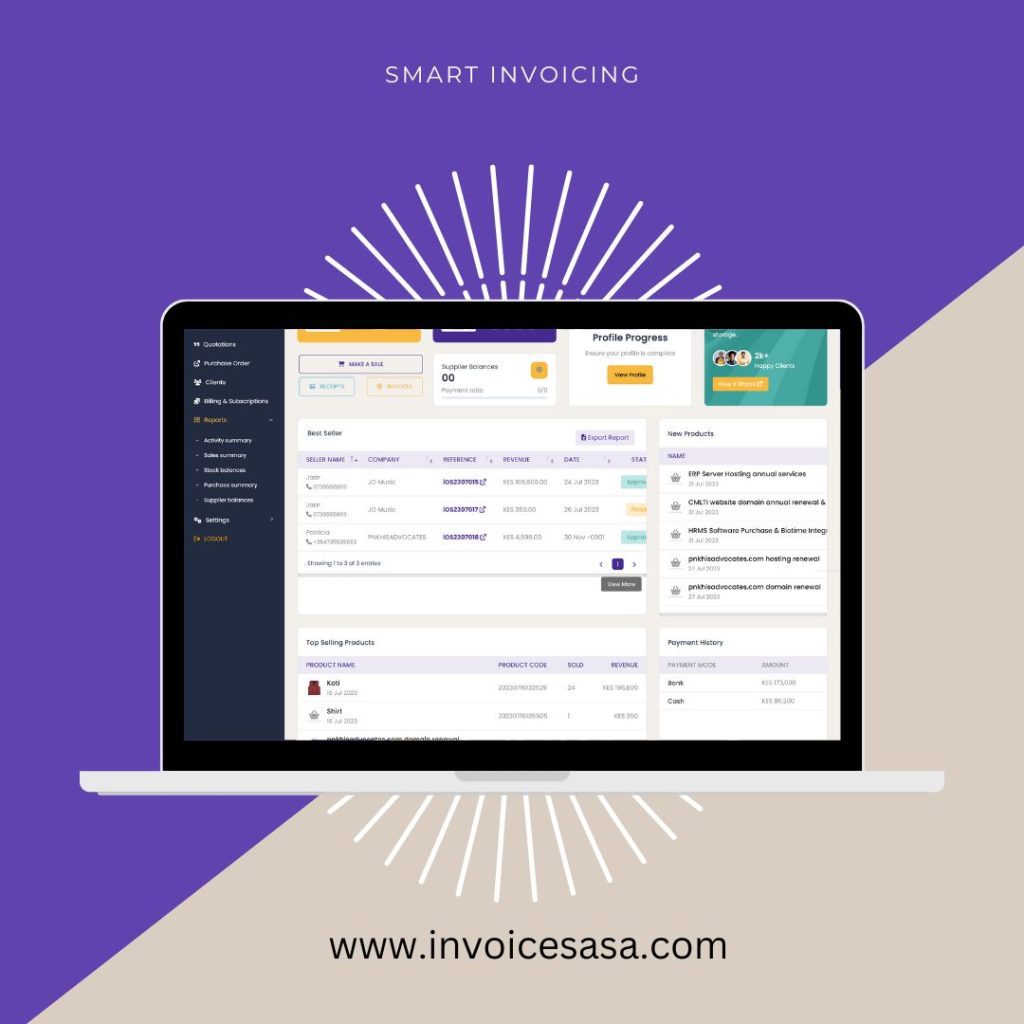 Unparalleled Security and Data Safeguarding: At Invoice SaSa, safeguarding your business and customer data is paramount. Utilizing cutting-edge encryption technology, secure servers, and regular security updates, Invoice SaSa ensures that your sensitive information remains impervious to unauthorized access or breaches. Your data is stored and transmitted with utmost security, freeing you to direct your focus towards nurturing your business expansion.
Dedicated Customer Assistance: Prompt support is at the core of Invoice SaSa's philosophy. Our dedicated support team is at your service, readily available to address queries or concerns. Whether it's aiding with setup, elucidating system features, or providing troubleshooting assistance, our approachable support team is merely a phone call, email, or chat away. Our commitment lies in delivering prompt and reliable support, ensuring your invoicing experience maintains its seamless rhythm.
Tailored to Your Business: We celebrate the uniqueness of each Kenyan business, and Invoice SaSa echoes this sentiment. It grants you the power to personalize your invoices with your company logo, hues, and tailored messages. This customization creates a professional, brand-consistent image that embodies your business identity. Invoice SaSa extends adaptable settings, accommodating your business processes and invoicing prerequisites. Our purpose is to equip you with a system that harmonizes with your needs and amplifies your business growth.
Ease of Use Coupled with Advanced Capabilities: Invoicing with Invoice SaSa strikes the perfect harmony between user-friendly simplicity and advanced functionalities. The intuitive interface renders it effortless for businesses of varying sizes and technical expertise to navigate and utilize the system optimally. Crafting invoices, tracking payments, and overseeing outstanding balances become swift tasks, freeing up your time and energy. Moreover, Invoice SaSa encompasses advanced features like invoice tailoring, tax computation, expenditure monitoring, recurrent invoices, and integration with payment gateways. This arsenal empowers you with the prowess essential to fulfill your distinctive invoicing prerequisites.
Time Management: Invoice SaSa is your time-saving ally. Automation liberates you from repetitive tasks, enabling swift creation of professional invoices and facilitating recurrent invoices for regular clients or services. The system seamlessly tracks and manages invoices, payments, and unsettled balances, diminishing the need for manual record-keeping and minimizing errors. Incorporated reporting and analytics offer insights into your financial performance with a mere few clicks.
Updates for a Lifetime – No Cost Involved Opting for Invoice SaSa translates to perpetual access to updates sans charges. We are dedicated to continual enhancement, drawing from user feedback and industry best practices. As a subscriber, you're privy to the latest features, refinements, and bug fixes without additional expenditure. Staying aligned with the newest functionalities ensures your invoicing processes remain efficient, synchronized with the evolving pulse of your business.
Ready to get started?
It's fast, free for days and very easy!